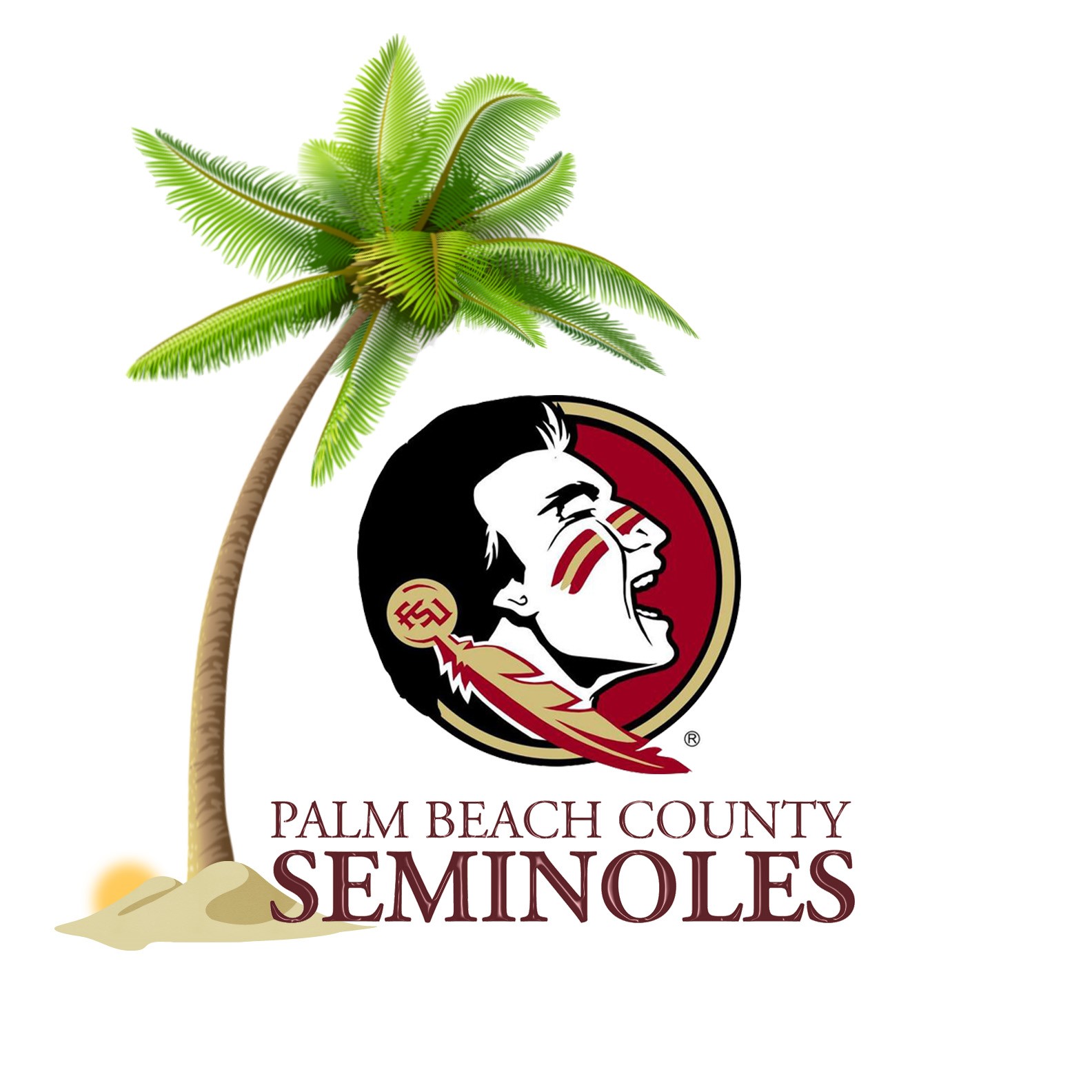 PALM BEACH COUNTY SEMINOLE CLUB, INC.
Website:
pbnoles.com
or
Join us on Facebook/Twitter
Mail Address: PO Box 14653
North Palm Beach, FL 33408
WHO WE ARE
The Palm Beach County Seminole Club is one of more than 80 local Seminole clubs/chapters throughout the nation. The Club was founded more than 35 years ago for the purpose of promoting The Florida State University, including athletics and education, through the FSU Alumni Association, Seminole Boosters and FSU Foundation. We currently have more than 10,000 Alumni in Palm Beach County and have been recognized as an "Outstanding Seminole Club."
The mission of the Palm Beach County Seminole Club is to foster a continued bond of collegiate fellowship, thus supporting ties with Florida State that do not end with graduation. We provide an environment of local FSU functions to benefit students, graduates, parents, Boosters, future 'Noles and friends of FSU. We also enhance the local visibility of FSU so as to attract the very best local students.
MEMBERSHIP
Your Palm Beach County Seminole Club membership is based on your Florida State University Alumni Association Membership. If you reside in Palm Beach County and are an active member of the Alumni Association, you are a member of the Palm Beach County Seminole Club. If you are not a member, join here: https://one.fsu.edu/alumni/membership/join
VOLUNTEER
Are you interested in volunteering? If so, visit http://www.pbnoles.com/Volunteer to fill out our volunteer form. Our events coordinator will provide details on how to get involved. We are looking for additional help at both game watching party locations and other exciting events!
WHAT WE DO
During the year we host we host many events and FSU functions including:
August
Seminole Scramble & Kickoff Party - This annual golf tournament and luncheon is the perfect way to begin each college football season. This is where you can mix and mingle with former FSU coaches and players and hear from them about their days wearing garnet and gold. Past keynote speakers have included 2000 Heisman Trophy winner Chris Weinke, former defensive coordinator Mickey Andrews, first-round draft pick Andre Wadsworth, 1992 Butkus Award winner Marvin Jones, and former Florida State running back and first-round NFL Draft pick Dexter Carter.
September-November
Game Watching Parties - If you can't be in Doak Campbell Stadium doing the 'war chant', the next best thing is to be with local fans cheering our team to victory. Join us at either of our two official game-watching locations -- Grease Burger Bar in downtown West Palm Beach or Mellow Mushroom in downtown Delray Beach-- and take advantage of the food and drink specials created especially for Palm Beach County Seminoles. Game watching parties bring together Florida State alumni, fans, and friends to cheer on the Seminoles football team all season long. Bring your family and friends and have a great time supporting Florida State with your local Seminole Club!
March
Seminole Service Day - Every spring, the FSU Alumni Association holds a national day of service for its Seminole Clubs. Clubs select a community service project to participate in and support while wearing Seminole gear. Seminole Service Day is annually held on the third Saturday in March. Mark your calendar for Seminole Service Day and give your time and talent, not your treasure.
Scholarships Due - The Palm Beach County Seminole Club awards two $1,500 scholarships to community college graduates entering either their junior or senior year at FSU. The applications are due in the spring and awarded in the summer. Our continual fundraising pays for these scholarships, named after former active 'Noles in Palm Beach County, Bill McLaren and Sandy Brubaker.
April
Pub Crawl - Join us on Clematis Street, in West Palm Beach, for our annual Pub Crawl event. Attendees receive a t-shirt and food and drink specials to make this a fun event! Look for the date to be announced in early spring!
Seminole Boosters Event - Each spring, we collaborate with the FSU Boosters and host a special event. Our Seminoles love to join together to welcome the Seminole Boosters and other notables and special guests. A great time is always had by all!
May
Seminole Sendoff - Each summer, incoming Florida State students are invited to attend a Seminole Send-Off hosted by the Palm Beach County Seminoles. This is a great way for incoming students to learn about life at Florida State and meet other FSU students from our area. Each May, we host this free event for newly accepted students, who will be attending FSU in the fall. At this event, parents and students can ask questions and get information from both Student Affairs personnel, current students, and recent grads
Additional Events
Bus Trips - The Palm Beach County Seminoles have organized bus trips to watch the 'Noles in action to Miami, Orlando, Jacksonville and yes, even Gainesville
Community Events - The Palm Beach Seminoles host events in conjunction with local sports organizations and businesses. Check out our events calendar for upcoming and past events.
LOCAL FUNDRAISING
Funds generated at Club special events and sponsorships are used for the following:
Scholarships
Maintaining a $6,500 per year Golden Chief status with the Seminole Boosters. This allows us to purchase season tickets, which are used as prizes during club events and game-watching parties.
Seminole Send-Off and various Club events throughout the year.
Support of FSU programs that have requested local assistance
SPONSORSHIP
The Palm Beach County Seminoles have a variety of annual sponsorship opportunities. Our sponsors offset program costs and enable the club to meet their fundraising goals and continue their scholarship program. Visit http://www.pbnoles.com/Sponsorship for details.